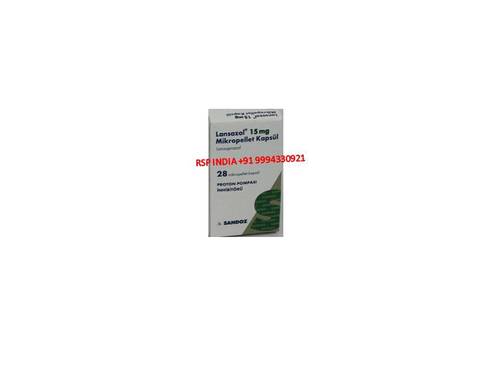 Lansazol 15 Mg 28 Mikropellet Kapsul
Product Description
Lansazol 15 Mg 28 Mikropellet Kapsul
We are engaged in offering Best Grade LANSAZOL 15 MG 28 MIKROPELLET KAPSUL.
Same time every morning.
If you are taking LANSAZOL twice a day, take the first dose before breakfast and the second dose in the evening.
The recommended doses for adults are as follows:
Stomach ulcer:
30 mg once daily for 4 weeks. Twelve intestine ulcers:
30 mg once daily for 2 weeks and maintenance therapy 15 mg once daily.
In the treatment of stomach and duodenal ulcers caused by non - steroidal anti - inflammatory drugs:
In 30 mg Gastroesophageal reflux disease once a day up to 4 weeks :
Zollinger - Ellison syndrome once a day for 4 or 8 weeks :
to reduce the risk of recurrence of duodenal ulcer :
In the triple treatment regimen; For 10 - 14 days, 30 mg LANSAZOL, 1 g amoxicillin and 500 mg clarithromycin are administered 2 times a day (12 hours apart). In the dual treatment regimen; 30 mg LANSAZOL and 1 g amoxicillin are administered 3 times a day (8 hours apart) for 14 days.
Contact Us
B No. 2, Ground Floor, Maharaja Nanda Kumar Road, Kolkata, West Bengal, 700029, India
Phone :+918037268537