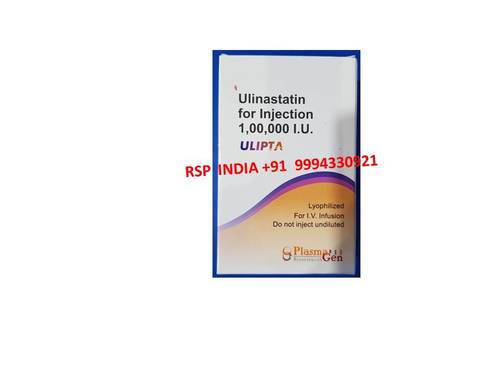 Ulipta 1,00,000iu Injection
Product Description
Ulipta 1,00,000iu Injection
We are engaged in offering Best Grade ULIPTA 1,00,000IU INJECTION.
We have marked a distinct position in this domain by providing an excellent grade ULIPTA 1,00,000IU INJECTION.
U Tryp 100000IU Injection is used in the treatment of severe sepsis and inflammation of the pancreas (acute pancreatitis). It helps to reduce the chemicals involved in inflammation of the pancreas.

U Tryp 100000IU Injection is given by your doctor or nurse. The dose you are given will depend on your condition and how you respond to the medicine. You should keep taking this medicine for as long as your doctor recommends. If you stop treatment too early your symptoms may come back and your condition may worsen. Let your doctor know about all other medications you are taking as some may affect, or be affected by this medicine.

The most common side effects are injection site itching, inflammation, pain, allergic reaction, and increased liver enzymes. Most of these are temporary and usually resolve with time. Contact your doctor straight away if you are at all concerned about any of these side effects.

U Tryp 100000IU Injection should not be used for patients who are hypersensitive and in breastfeeding women. Before taking this medicine, you should tell your doctor if you are pregnant or planning pregnancy. Your doctor may advice for regular liver function while you are taking this medicine. This medicine can not be used for replacing the traditional therapeutic methods such as transfusion, oxygen therapy and antibiotics for shocks.
Contact Us
B No. 2, Ground Floor, Maharaja Nanda Kumar Road, Kolkata, West Bengal, 700029, India
Phone :09384929135