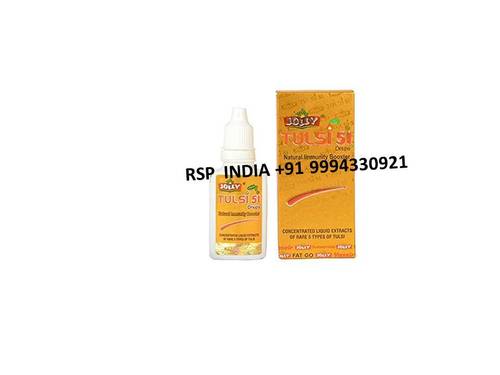 Tulsi 51 Drops
Product Description
Tulsi 51 Drops
We are engaged in offering Best Grade TULSI 51 DROPS.
We have marked a distinct position in this domain by providing an excellent grade TULSI 51 DROPS.
Tulsi-51 drops is rich Anti Oxidant, Anti Aging, Anti Bacterial, Anti Viral, Anti Septic.It helps to mobilize mucous in bronchitis and asthma attacks. It is an effective remedy timulant, Demulcent, Childrens ailments , Fever and common cold, Sexual problems, Fever and common cold.
HealthVit Tulsi Drops
You can take these drops to fight with various kinds of infections, fever, cold, sore throat, cough, flu and for detoxifying your body. Just add 3-4 drops to a glass of warm water, juice or tea and take it every day.
Shri Tulsi 100% Organic Herbal Product Benefits Of Tulsi - Cures a fever, Beats diabetes, Protects the heart Beats, stress Dissolves, kidney stones, Beats cancer Helps to quit smoking, anti-viral, anti-flu , anti-biotic , anti - inflammatory, and anti-disease properties No Side effects.
Contact Us
B No. 2, Ground Floor, Maharaja Nanda Kumar Road, Kolkata, West Bengal, 700029, India
Phone :09384929135