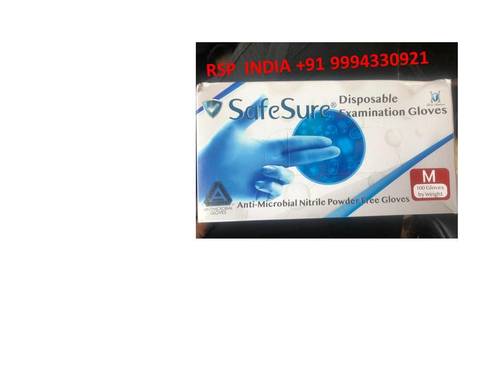 Safe Sure Disposable Examination Gloves
Product Description
Safe Sure Disposable Examination Gloves
We are engaged in offering Best Grade SAFE SURE DISPOSABLE EXAMINATION GLOVES.
We have marked a distinct position in this domain by providing an excellent grade SAFE SURE DISPOSABLE EXAMINATION GLOVES.
In general, latex gloves offer the best protection against bacteria and viruses, while synthetic gloves provide better chemical protection. Of the different types of latex-free gloves, nitrile gloves offer a higher degree of protection against viruses, besides the chemical protection they provide.
The answer is that Nitrile is a stronger higher quality glove then Latex. However, Latex is a cheaper option for those that do not require stronger chemical and puncture resistance. It does depend on what job or task you are planning on using gloves for.
Workers exposed to latex gloves and other products containing natural rubber latex may develop allergic reactions such as skin rashes; hives; nasal, eye, or sinus symptoms; asthma; and (rarely) shock.
Contact Us
B No. 2, Ground Floor, Maharaja Nanda Kumar Road, Kolkata, West Bengal, 700029, India