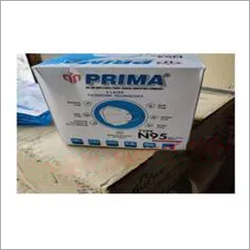 PRIMA N95 ANTI VIRUS MASK
Product Description
1. 2. protection against haze, bacteria, influenza viruses, filtration rate up to 95 percent, PM 2.5 dust , Flat Folding with adjustable Strap - This respirator can be easily carried due to its flat folding design.
Buy original products only from authorised seller "SPEAKING OWL". Avoid misleading cheap product from any other seller.

Excellent Filtration - Built by comfortable and breathable 5 layers filter cotton, it can isolate 95 - percent of dust, chemicals, exhaust, smog, pollen, PM 2.5,droplets and particulates. NIOSH approved - More than 95% Filtration efficiency and tested for mean particle size of 0.6 Microns.

Comfortable Material - The dust mask is made of activated carbon non woven fabric, comfortable to wear for protecting the face with good windproof and dustproof effect.

Flat Folding with Unisex Universal Size - Face shape design, nose portion of an aluminum sheet secured to prevent slipping and HOOk&LOOP adjustable size, suitable for most people to protect the face. This respiratoBreathable Ventilation Design - Mouth have ventilation holes, double air valve help you breath easier and freely when riding the bike and various activities. Low breathing resistance with high filtration efficiency. Head straps are ultrasonically bonded to the mask, no staples are used.

Widely used: This respirator is suitable for shopping trips, outdoor travel, transport stations, visiting public places.
Contact Us
B No. 2, Ground Floor, Maharaja Nanda Kumar Road, Kolkata, West Bengal, 700029, India
Phone :09384929135