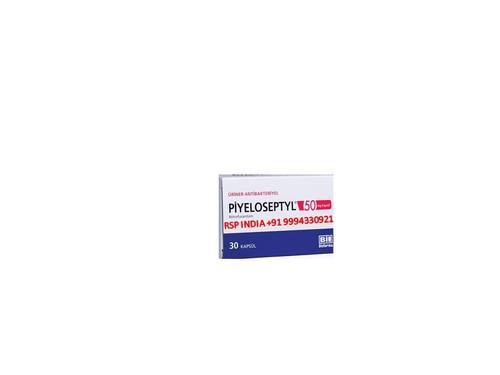 Piyeloseptyl 50 Mg 30 Kapsul
Product Description
Piyeloseptyl 50 Mg 30 Kapsul
With an aim to provide immense satisfaction to clients, we are engaged in offering the best grade PIYELOSEPTYL 50 MG 30 KAPSUL.
As a quality conscious enterprise in this field, we are engrossed in providing the finest grade PIYELOSEPTYL 50 MG 30 KAPSUL.
Nitrofurantoin is an antibiotic used to treat or prevent certain bladder infections. It works by stopping the growth of bacteria.

This antibiotic treats only bacterial infections. It will not work for viral infections (e.g., common cold, flu). Unnecessary use or overuse of any antibiotic can lead to its decreased effectiveness.
Treating and preventing urinary tract infections caused by certain bacteria.

Piyeloseptyl is an antibiotic for specific use in the urinary tract. It works by killing sensitive bacteria.
Contact Us
B No. 2, Ground Floor, Maharaja Nanda Kumar Road, Kolkata, West Bengal, 700029, India