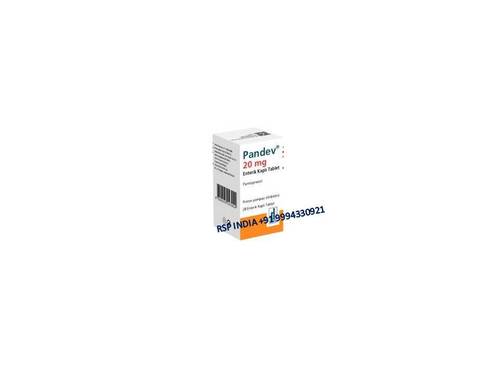 Pandev 20 Mg 28 Enterik Kapli Tablet
Product Description
Pandev 20 Mg 28 Enterik Kapli Tablet
Since 2012, we have been engaged in providing high grade
PANDEV 20 MG 28 ENTERIK KAPLI TABLET.
Backed with immense domain expertise, we have been able to offer the finest grade PANDEV 20 MG 28 ENTERIK KAPLI TABLET.
Pantoprazole is used to treat certain stomach and esophagus problems (such as acid reflux). It works by decreasing the amount of acid your stomach makes. This medication relieves symptoms such as heartburn, difficulty swallowing, and persistent cough.
Pantoprazole is a medicine indicated for the treatment of acid-related diseases of the stomach and intestine. It is a selective inhibitor of proton pump (PPI), which reduces the amount of acid produced in the stomach.
This medicine is used for:
- Treatment of mild esophageal disease (with or without mild inflammation of the esophagus) caused by acid reflux from the stomach and associated symptoms (heartburn, acid regurgitation, pain on swallowing).
- Long-term treatment and prevention of relapse of reflux oesophagitis (inflammation of the esophagus accompanied by the regurgitation of stomach acid).
- Prevention of gastroduodenal ulcers induced by antiinflammatory drugs (NSAIDs, such as ibuprofen) in patients at risk who need continued treatment with these drugs.
Contact Us
B No. 2, Ground Floor, Maharaja Nanda Kumar Road, Kolkata, West Bengal, 700029, India
Phone :09384929135