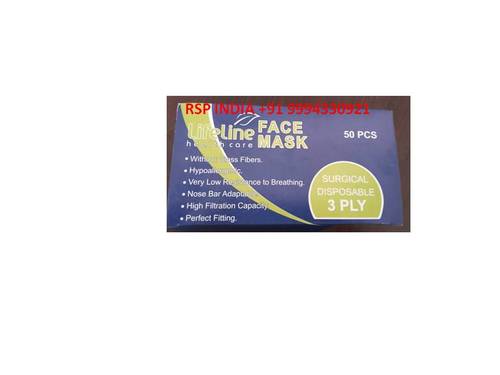 Lifeline Facemask
Product Description
Lifeline Facemask
We are noted as a leading entity in this firm, instrumental in putting forth top grade LIFELINE FACEMASK
LIFELINE FACEMASK is a face - fitting, disposable device that creates a physical barrier between the mouth and nose of the wearer and the potential contaminants in the immediate environment.
Our face masks are made in different thicknesses and with different ability to protect you from contact with liquids, air bourn germs, micro orgasms, splash etc. These properties may also affect how easily you can breathe through the facemask and how well the face mask protects you.
Safe Life face mask are also meant to help block large - particle droplets, splashes, sprays or splatter that may contain germs (viruses and bacteria), keeping it from reaching your mouth and nose. Or face masks also help reduce exposure of your saliva and respiratory secretions to others.
We do not intend nor promote face masks to be used more than once as this is a disposable device and reuse can be extremely dangerous.
Contact Us
B No. 2, Ground Floor, Maharaja Nanda Kumar Road, Kolkata, West Bengal, 700029, India