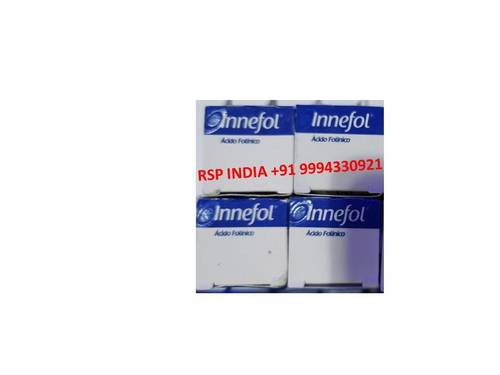 Innefol Addo Folinico
Product Description
Innefol Addo Folinico
We are engaged in offering Best Grade INNEFOL ADDO FOLINICO.
We have marked a distinct position in this domain by providing an excellent grade INNEFOL ADDO FOLINICO.
Innefol is used as an antidote to the harmful effects of methotrexate (a cancer medicine) that is given in high doses. It is used also to prevent or treat certain kinds of anemia. Innefol acts the same way in the body as folic acid, which may be low in these patients.
Innefol is also used along with fluorouracil (a cancer medicine) to treat cancer of the colon (bowel).
Innefol is available only with a prescription.
Once a medicine has been approved for marketing for a certain use, experience may show that it is also useful for other medical problems. Although these uses are not included in the product labeling, Innefol is used in certain patients with the following medical conditions:
Ewing's sarcoma (type of cancer found in the bone)
Gestational trophoblastic tumors (tumors in the uterus or womb)
Head and neck cancer
Non-Hodgkin's lymphoma (cancer of the lymph system)
Contact Us
B No. 2, Ground Floor, Maharaja Nanda Kumar Road, Kolkata, West Bengal, 700029, India
Phone :09384929135