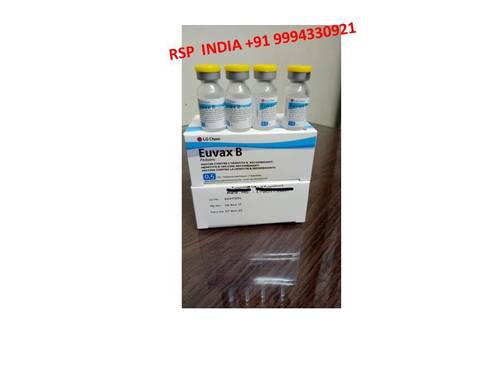 EUVAX B 0.5MG INJECTION
Product Description
2. We are noted as a leading entity in this firm, instrumental in putting forth top grade EUVAX B 0.5MG INJECTION.
Immunization against infection caused by all known subtypes of Hepatitis B virus. Euvax B is for intramuscular use only. One pediatric dose (neonates, infants, and children aged up to and including 15 years of age) is 0.5 ml containing 10 μg of HBsAg.
Euvax - B vaccine is used to help prevent hepatitis B in adults.
Hepatitis is a serious disease caused by a virus. Hepatitis causes inflammation of the liver, vomiting, and jaundice (yellowing of the skin or eyes). Hepatitis can lead to liver cancer, cirrhosis, or death.
Hepatitis B is a disease of the liver that is spread through blood or bodily fluids, sexual contact or sharing IV drug needles with an infected person, or during childbirth when the mother is infected.
Euvax - B works by exposing you to a small amount of the virus, which causes the body to develop immunity to the disease. Euvax - B will not treat an active infection that has already developed in the body.
Contact Us
B No. 2, Ground Floor, Maharaja Nanda Kumar Road, Kolkata, West Bengal, 700029, India
Phone :+918037268537