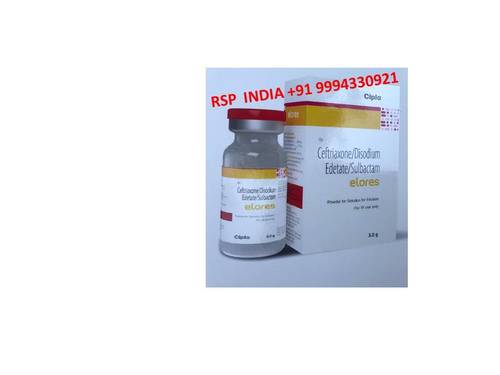 ELORES 3.0G INJECTION
Product Description
2. Ceftriaxone is a broad - spectrum semi - synthetic third - generation cephalosporin with a potent bactericidal activity against a wide range of gram - positive and gram - negative bacteria. Sulbactam is ß– lactamase inhibitor.
Ceftriaxone + Sulbactam Indications / Ceftriaxone + Sulbactam Uses
Infections caused by pathogens sensitive to Ceftriaxone Injection, e. g. :
- sepsis;
- meningitis;
- abdominal infections (peritonitis, infections of the biliary and gastrointestinal tracts);
- infections of the bones, joints, soft tissue, skin and of wounds;
- infections in patients with impaired defence mechanisms;
- renal and urinary tract infections;
- respiratory tract infections, particularly pneumonia, and ear, nose and throat infections;
- genital infections, including gonorrhoea.
Perioperative prophylaxis of infections.
Contact Us
B No. 2, Ground Floor, Maharaja Nanda Kumar Road, Kolkata, West Bengal, 700029, India
Phone :+918037268537