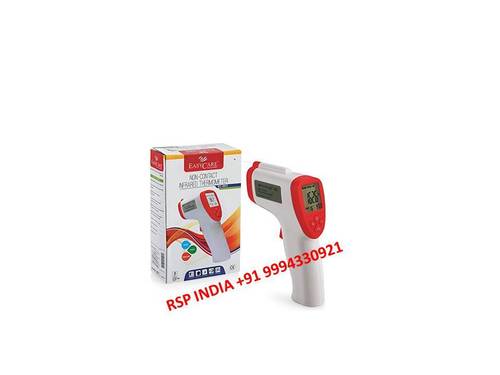 Easycare Non Contact Thermomet
Product Description
Easycare Non Contact Thermomet
We are noted amongst remarkable enterprises in this domain, engaged in offering the best grade EASYCARE NON CONTACT INFRARED THERMOMETER.
We are a well-known enterprise in this field, engaged in offering fine grade EASYCARE NON CONTACT INFRARED THERMOMETER.
This permits temperature measurement from a distance without contact with the object to be measured. A non-contact infrared thermometer is useful for measuring temperature under circumstances where thermocouples or other probe-type sensors cannot be used or do not produce accurate data for a variety of reasons.Infrared thermometers usually use a lens to focus infrared light from one object onto a detector called a thermopile. The thermopile absorbs the infrared radiation and turns it into heat. ... The electricity is sent to a detector, which uses it to determine the temperature of whatever the thermometer is pointed at.
Non-Contact Thermometers. Non-contact thermometers, also known as infrared (IR) thermometers, measure temperature from a distance. Every form of matter with a temperature above absolute zero (0 K) emits infrared radiation relative to its temperature. This is called characteristic radiation.
Contact Us
B No. 2, Ground Floor, Maharaja Nanda Kumar Road, Kolkata, West Bengal, 700029, India
Phone :+918037268537