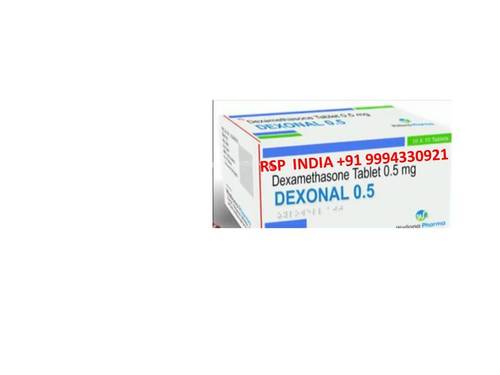 DEXONAL 0.5MG TABLETS
Product Description
1. 2. DEXONAL 0.5MG TABLETS is used to treat conditions such as arthritis, blood/hormone/immune system disorders, allergic reactions, certain skin and eye conditions, breathing problems, certain bowel disorders, and certain cancers. It is also used as a test for an adrenal gland disorder (Cushing's syndrome).
DEXONAL 0.5MG TABLETS belongs to a class of drugs called steroids. A class of drugs is a group of medications that work in a similar way. These drugs are often used to treat similar conditions.
For conditions with inflammation: With certain conditions, inflammation can cause the immune system to be overactive. This can damage the body's tissues. Steroids such as dexamethasone help block the immune system's response to inflammation, which helps prevent this damage.
For adrenal insufficiency: The adrenal gland helps control certain body functions. These functions include managing blood glucose, fighting infection, and controlling stress. In people with adrenal insufficiency, the adrenal gland releases lower amounts of certain hormones. Dexamethasone helps replace these hormones.
Contact Us
B No. 2, Ground Floor, Maharaja Nanda Kumar Road, Kolkata, West Bengal, 700029, India
Phone :09384929135