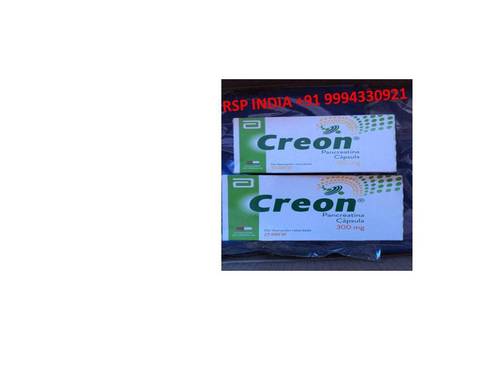 CREON 300MG CAPSULE
Product Description
Our quality committed firm has attained the topmost position in this field by putting forth top gradeCREON 300MG CAPSULE
Since our commencement in this domain, we have been engaged in providing the finest grade CREON 300MG CAPSULE

CREON is a prescription medicine used to treat people who cannot digest food normally because their pancreas does not make enough enzymes due to cystic fibrosis, chronic pancreatitis (which is the swelling of the pancreas that lasts a long time), pancreatectomy (which is the removal of some or all of the pancreas),

CREON is a pancreatic enzyme preparation consisting of pancrelipase, an extract derived from porcine pancreatic glands. Pancrelipase contains multiple enzyme classes, including porcine - derived lipases, proteases, and amylases.

Pancrelipase is a beige - white amorphous powder. It is miscible in water and practically insoluble or insoluble in alcohol and ether.

Each delayed - release capsule for oral administration contains enteric - coated spheres (0.71-1.60 mm in diameter).

The active ingredient evaluated in clinical trials is lipase. CREON is dosed by lipase units.

Contact Us
B No. 2, Ground Floor, Maharaja Nanda Kumar Road, Kolkata, West Bengal, 700029, India