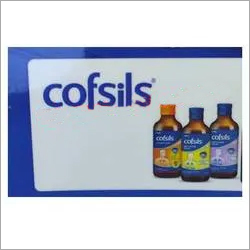 COFSILS COUGH SYRUP
Product Description
 2. We are noted as a leading entity in this firm, instrumental in putting forth top grade COFSILS COUGH SYRUP.
Cofsils Cough Syrup is used in the treatment of cough. It relieves allergy symptoms such as runny nose, stuffy nose, sneezing, watery eyes and congestion or stuffiness. It also thins mucus in the nose, windpipe and lungs, making it easier to cough out.
COFSILS SYRUP WORKS
Cofsils Cough Syrup is a combination of three medicines: Diphenhydramine, Ammonium chloride and Sodium citrate, which relieves cough. Diphenhydramine is an antiallergic which relieves allergy symptoms like runny nose, watery eyes and sneezing. Ammonium chloride is an expectorant which decreases the stickiness of mucus (phlegm) and helps in its removal from the airways. Sodium citrate is a mucolytic which thins and loosens mucus (phlegm), making it easier to cough out.
Contact Us
B No. 2, Ground Floor, Maharaja Nanda Kumar Road, Kolkata, West Bengal, 700029, India
Phone :+918037268537