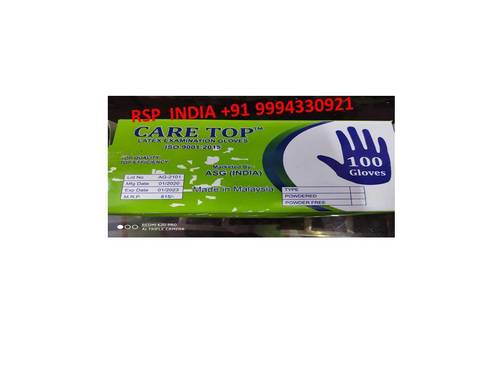 Care Top Latex Examination Gloves
Product Description
Care Top Latex Examination Gloves
Our Quality Committed Firm Has Attained The Topmost Position In This Field By Putting Forth Top Gradecare Top Latex Examination Gloves
Since Our Commencement In This Domain, We Have Been Engaged In Providing The Finest Gradecare Top Latex Examination Gloves.
Multi Purpose Use "Care - Top Gloves Are Ideal For Almost Any Application Including Basic Medical, Dental And Patient Care, Lab Work, Hair Colouring, Tattoo Making, Painting, Pet Care, Home Improvement, Hobbies hobbies, Arts & Crafts"
Comfortable "Care - Top Gloves Are Designed For An Excellent Fit, Extra Thick Cuff, Good Sensitivity And Dexterity For Fine Tasks. "
The Glove That Started It All! Care - Top Gloves General Application Lightly Powdered Latex Examination Gloves Provides A Cost Effective General Use Solution. Stringent In Process Leaching Results In A Glove That Is Low In Water Extractable Protein, Creating A Wide Candidate Base Of Users Seeking Reliable, Cost Effective And Comfortable Barrier Protection.
All Of These Gloves Are For Single Use. Once Used, They Can Simply Be Disposed Of As Needed.
Available In Small, Medium And Large Size. Beaded Cuff Guards Against Tearing.
Contact Us
B No. 2, Ground Floor, Maharaja Nanda Kumar Road, Kolkata, West Bengal, 700029, India