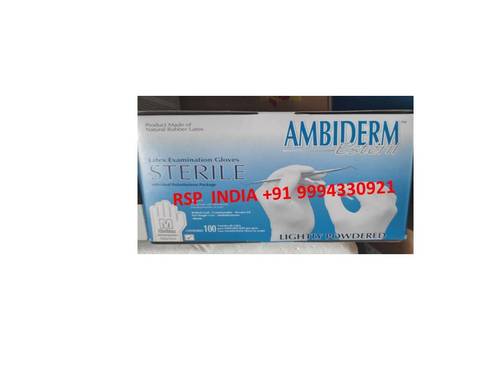 Ambiderm Esteril Gloves
Product Description
Ambiderm Esteril Gloves
Our quality committed firm has attained the topmost position in this field by putting forth top grade AMBIDERM ESTERIL GLOVES
Since our commencement in this domain, we have been engaged in providing the finest grade AMBIDERM ESTERIL GLOVES
Guante Esteril
Liso
Esteril
Empacado de manera individual en bolsa de polietileno
Bajo en polvo
AMBIDERM ESTERIL GLOVES are a form of hand protection. The glove material is a compound called nitrile, which is a chemical resistant, puncture resistant material. AMBIDERM ESTERIL GLOVES is basically a synthetic reprocessed version of latex.
AMBIDERM ESTERIL GLOVES are preferred over latex because of their chemical resistance, their tendency to visibly rip when punctured, and to prevent possible latex allergies.
See the Glove Selection Chart below for advantages and disadvantages of commonly used surgical - type gloves.
Contact Us
B No. 2, Ground Floor, Maharaja Nanda Kumar Road, Kolkata, West Bengal, 700029, India
Phone :09384929135